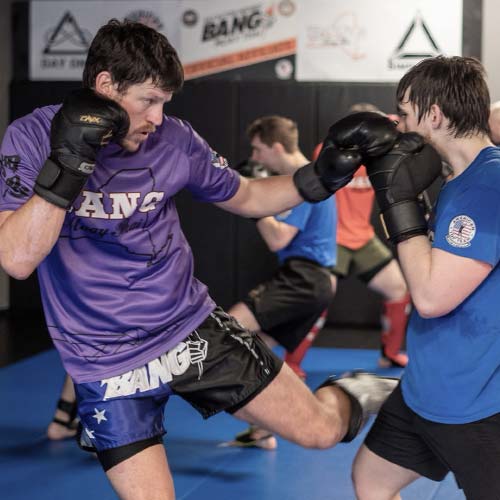 "BANG" Muay Thai is a striking system developed by Duane Ludwig. It takes tenants of traditional Muay Thai, Boxing, and Dutch Kickboxing and combines them into a comprehensive, easy to learn system that is not only applicable to kickboxing but MMA as well. Whether you are a beginner or an experienced practitioner, no matter if your goal is to get in shape, compete, or just learn a new skill, we have classes that will suit you. We offer all levels as well as beginner focused classes. All of our instructors have consistent engagement with Sensei Ludwig to ensure that our information is as precise and true to the system as possible, guaranteeing the highest level of instruction possible!
One of the most popular combat sports nowadays, and definitely one of the most effective ways to keep your mind and body in a perfect shape. Our Boxing program incorporates the "BANG" Muay Thai system and is a perfect compliment to help you round out your striking skill set, or simply to focus on developing your boxing prowess. American Top Team has skilled instructors that can help you reach your boxing goals whether you are looking to improve combative skills, get a high-energy total-body workout, or to shed some stress.
Brazilian Jiu Jitsu is a grappling based martial art that focuses primarily on ground fighting techniques. Pioneered by Helio Gracie, BJJ teaches through use of leverage and superior technique the student can control and ultimately subdue any untrained assailant, regardless of size and strength. Our rotating curriculum and comprehensive class structure allows us to cater each class to all skill levels. Whether self defense focused or looking to compete, from day one students to seasoned hobbyists, American Top Team Watertown can help you reach your Brazilian Jiu-Jitsu goals!
American Top Team Watertown provides a unique experience with our Cardio Kickboxing Classes. All of our instructors have personal training backgrounds as well as real fighting experience and combine these two worlds for a fast paced, technique intensive workout. Each class is designed to allow students to modify the training session to meet their needs and experience level, meaning that whether you are a beginner or an experienced athlete you are guaranteed a productive and worthwhile workout. No matter if your goals include losing weight, getting in shape, or learning a new skill set this class promises to help you get closer to that goal!
American Top Team Watertown also runs a very extensive kids program utilizing the "BANG" Muay Thai "Lil Ninjas" curriculum. This striking based program emphasizes self defense, confidence building, respect and discipline, and sets a strong foundation for the youth to continue to build on throughout their lives.
Our Women's Self Defense program is a jiu jitsu-based self defense program headed up by Coach Rachel Vincent. Utilizing proven self defense strategies this program focuses on providing a safe and structured environment for women of all sizes, ages, and backgrounds to learn and test the skills necessary to keep themselves safe in a wide variety of difficult and dangerous situations.
This program is designed to improve physical and cardiovascular fitness. We achieve this through the combination of strength training, aerobic conditioning, and other methods.